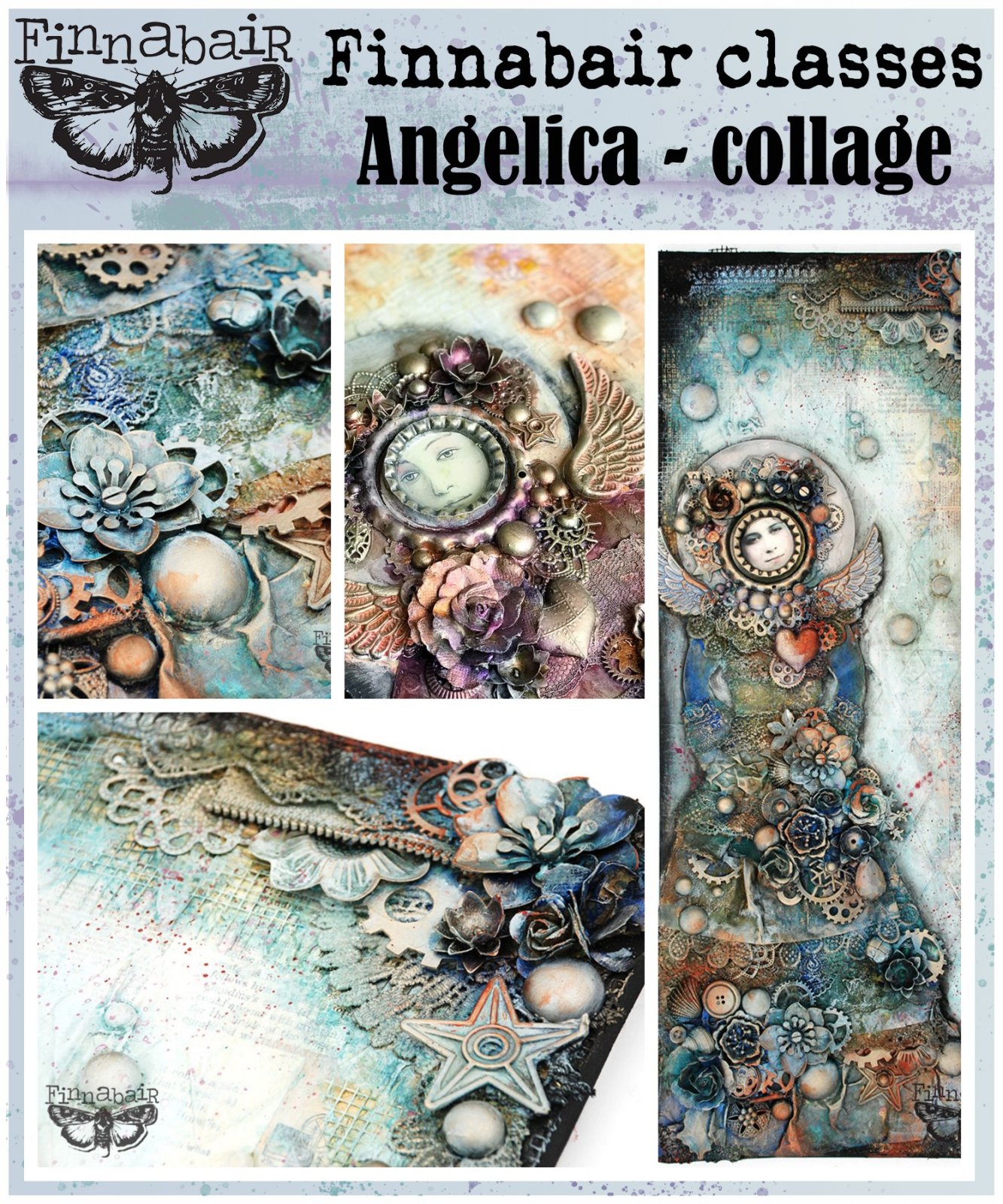 Angelica – Big Collage – (about 7-8 h total + break)
Would you like to try using your imagination to build a full-sized collage project and create a statement piece you can hang on the wall...and learn a lot about the products at the same time? "Angelica" is the perfect project for you!
This class is not only the chance to try a bit different way of composing and organizing your project but also finding a way of using the supplies we all have somewhere close in our reach: in our studios, kitchens, garages, gardens… with the presented techniques all these options are possible…and there is a high chance you will never throw away a piece of plastic, metal or fabric away!
During this full day class we will build the project together from the bottom to the top – I will do my best to break the process into easy to follow steps. We will try different art mediums from all of my Lines including 3 kinds of Gesso, 3 kinds of Gel, Art Alchemy Metallique Paints and Liquid Acrylics, Metallique Waxes and more! You will have a wide choice of finishing possibilities and colours to choose. All the techniques can be easily used on many other projects such as home decor and altered objects or journal pages.
Project is suitable both for advanced and beginning students.
Price: 225.00 per student (including kit)
| | |
| --- | --- |
| Skill Level: | beginner |
| Skill Details: | Project is suitable both for advanced and beginning students. |
| Instructor: | Anna Dabrowska (Finnabair) |
| Instructor Bio: | I was born in Warsaw, Poland, now I live in Ireland with my husband, Andrzej and my pets. I'm a woman of many interests: a mixed media artist, art journaler and designer who loves new challenges, experiments and developing new techniques and skills. I've been creating since 2007, started scrapbooking in 2008-2009 and mixed-media in 2009 when I got totally addicted. My projects are texture and art medium-based: I make paper and canvas layouts, collages and altered art, tags, journal pages ? and many more. I believe in power of recycling and upcycling and just adore texture, paints of any kind and flea market supplies. Freedom, embracing creativity and being true to your inner voice is my main source of inspiration and creative energy. I'm a full time designer and artist and as an experienced travelling teacher I offer a range of my own mixed media-based classes in collage, artistic scrapbooking, art journalling and more. I truly enjoy teaching and during my classes I focus not only on showing techniques, ideas and tricks but also I try to spread my love and enthusiasm for arts and crafts as I believe in therapeutic and liberating power of creativity. I work with such international brands as Prima Marketing (design team member since 2011 and product designer since 2013) and 7 Dots Studio ( product designer since 2011). I run my own Creative Team who supports my creative Blog and I design for international mixed-media and scrapbooking magazines. My biggest pride and adventure of the last years is my own mixed-media line of products released with Prima Marketing which happen to be source of inspiration for a large group of creative people. |